Transforming Real Estate with Dynamics 365 and SAP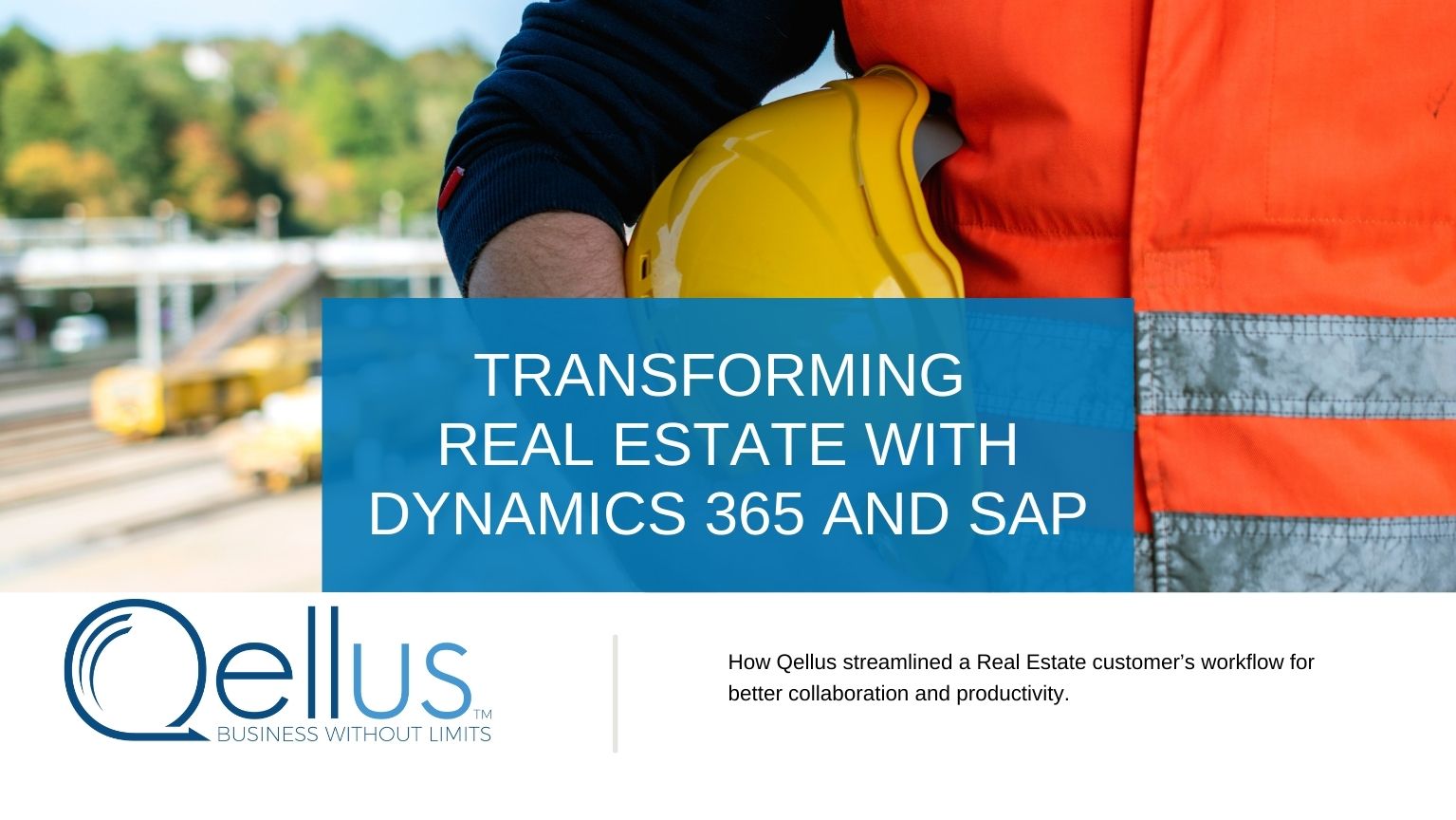 How Qellus streamlined a Real Estate customer's workflow for better collaboration and productivity.
For many companies, the promise of digital transformation is elusive. Streamlining customer journeys, engaging employees, and creating operational efficiency are delayed by multiple application and data integration challenges. These delays often lead to a lapse in productivity and a dent in your bottom line. For real-estate companies, this is especially important as managing new opportunities often starts in a CRM system, only to be transferred to an ERP solution for due diligence on new customers and the management of new real estate deals. In this article, we'll share how Qellus partners with our clients to transform real estate businesses with a data-driven approach.
What is Extended ECM for Microsoft Dynamics?
Extended ECM for Microsoft Dynamics (D365) integrates the power of Microsoft Dynamics CRM capabilities with the OpenText Extended ECM Platform to bridge content silos, expedite information flows, and expand governance. It allows companies to take advantage of the robust document management capabilities of the OpenText Extended ECM (xECM) platform for users of Microsoft Dynamics, and provides direct access to sales information by connecting documents about prospects and opportunities into a cohesive data set shared across the organization.
Why is Extended ECM for Microsoft Dynamics Important?
While D365 is a powerful CRM application, it is often not the only application enterprises use in the lifecycle of a sale – in fact, it is often only the beginning. However, capturing essential documents at the outset of the relationship is critical to ensure information is controlled and trusted throughout customer engagement. Once a prospect becomes a customer, they are transferred to an ERP system to perform due diligence, collect background information, set up financial payments, and determine creditworthiness. Extended ECM for Dynamics allows the entire prospect data set (documents and data) to be started in D365 and easily updated by users in other applications throughout the process.
A practical application of Extended ECM for Microsoft Dynamics
Qellus recently completed the implementation of this solution for a national rail company in which the sales and real estate teams relied on a patchwork of numerous technologies to share information, but this approach caused challenges. While the sales team used D365, the real estate team used SAP – and despite their good intentions to collaborate, documents for properties, customers, opportunities, and real estate contracts were locked within their respective applications.
The sales team handles all revenue-generating opportunities. They are motivated to get prospects into the system quickly, with as few data entry points as possible Often being on the road, sales agents log in once a month to enter new prospects into the system. This process must be concise and easy to use for a broad, dispersed user base with varying degrees of technical proficiency. Once an executed contract with a prospect is signed, their profile must be set up in SAP as a business partner to complete the onboarding process. In addition to the documents collected to close the deal, customer due diligence is conducted to confirm the legal entity of the customer, collect tax and financial information, and perform background checks. These activities require supporting documentation about each new business partner that indicates due diligence is complete.
From a process perspective, that opportunity has now become a closed deal. Once the deal is closed the salesperson is eligible for his commission check and the real estate team begins to manage the contract. The opportunity could be a building lease, warehouse, rail car, or other property that may be combined with other real estate leases like a right of way and land parcels. Each of these deals has many documents that describe the terms of leases and the contracts associated with them – all of which are managed by the real estate team in SAP. Allowing information to flow effortlessly across Dynamics and SAP gives the salesperson insights into closed deals for future opportunities and exposes historical data to the real estate team. This allows them to better understand the origin of the deal. The increased transparency improves decision-making, automates business processes, and expands the reach of governance and policies.
The challenge is that neither team has the time to learn a new system. The real estate team's operational responsibilities require it to manage their portfolio, which they do within SAP, while the sales team's activities are best served by the prospect and opportunity management capabilities of Microsoft Dynamics. However, both need access to documents and data produced by the other. That's where xECM for D365 comes in – it allows both data and documents to be centrally managed in a trusted, common repository in OpenText. Thus, our solution eliminates the back and forth process previously required to email documents or search across content silos for missing documents. Due to the user-friendliness our solution introduced, our customer has noted higher user adoption rates, improved data accuracy, and company-wide trust.

A streamlined workforce realized
Qellus broke down information silos between the sales and real estate teams, by enabling them to share content through our solution, which integrates data and documents across D365 and SAP.
By integrating xECM with SAP Real Estate and Microsoft Dynamics 365:
A real estate manager can look at any document that was created as part of the opportunity phase by simply navigating to the related workspaces from within SAP.

Any salesperson can field a question about what tracks of land they have available that would be options for a potential opportunity (stored in SAP).

Sales managers have access to the executed contracts (in SAP) from within D365 if new opportunities come up.

The sales team has insights into leased and available real estate information managed in SAP.

Real estate managers have insight into sales prospects and pending opportunities without having to learn D365.

And, it goes beyond the sales and real estate teams. With the integration of ESRI map data, anyone can open a Watco location and pull up related contracts for that location simply by pointing on a map.
If you would like to learn how to integrate your Microsoft Dynamics (D365) data and documents with all your critical cross-application business processes, contact Qellus today to achieve truly transformational results.